News
Urgent need for a real solution for unaccompanied minors in Greece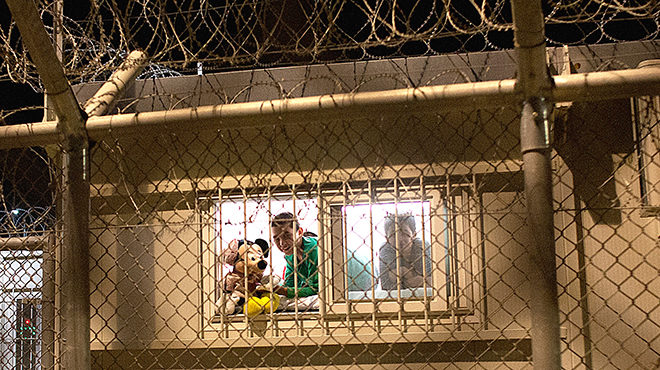 The issue of the identification, protection and support of unaccompanied minors in Greece remains urgent. Many of these children are essentially unprotected, often incorrectly registered, and may even end up homeless in the streets of Greek cities, exposed to grave dangers.
As the recent findings of Refugee Support Aegean (RSA) and PRO ASYL show, protecting and supporting unaccompanied minors in Greece continues to be a pressing issue, especially following recent negative developments relating to the discontinuation of specialised support programmes, the withdrawal of NGOs dealing with their identification from the so-called hotspots, and the closure of shelters for minors, as well as significant delays in asylum, family reunification and relocation processes.
Greece has always been a transit country for refugees – including unaccompanied minors. Until the signing of the EU-Turkey Deal, most of these young people were not registering with their true age, as they were trying to avoid the extensive detention (the so-called »protective custody«, which can last for years) that children have to face due to a lack of places in specialised shelters.
After the gradual closure of the Balkan Corridor (from November 2015 until March 2016), more and more unaccompanied minor refugees began to reappear in the official statistics as well as in the shelters. Today, it is estimated that there are some 2,300 unaccompanied minors in Greece. Being caught within the Greek borders, they hope that if they declare their real age, they will receive adequate support and the protection they are looking for – starting with being housed in adequate reception centres.
Overall, there has only been a small number of improvements in the identification, protection and support of unaccompanied minors in the past two years. For example, the number of places in shelters has tripled since March 2016. However, the total number of places in reception centres still amounts to only 1,223, i.e. less than half the required number.
More than that, what has been set up with great effort is in danger of collapsing, due to very long delays in identification and asylum procedures and the fact that more and more shelters are closing and programmes are coming to an end without being extended. In particular, five hostels for unaccompanied minors are expected to be closed. At the beginning of July 2017, 1,218 unaccompanied minors were on the waiting list for a place in a shelter, while 217 were detained in one of the Reception and Identification Centres (RICs) and another 94 in police stations and pre-removal detention centres. Humanitarian organisations have voiced their strong concern in a joint statement.
These children are trapped in a dead-end situation, and in a recent communication with RSA, experienced professionals in the field have characterised their situation as a »ticking time bomb«. There are also quite a few children whose parents were forced to leave them behind in Greece, as they lacked sufficient funds to move the whole family together. The parents would continue their dangerous journey to Central or Northern Europe by themselves, with the help of facilitators, and would try to recover their children through family reunification at a later stage, as soon as they had applied for asylum in their destination country.
Due to delays in family reunification or relocation procedures, hundreds of unaccompanied minors have been waiting for months; a situation exacerbated by Germany's recent policy changes (i.e. the country to which the majority has applied to be transferred). Since April 2017, the German government has reduced the number of affected people permitted to travel from Greece to Germany to a mere 70 per month. This change came at a time when it was estimated that there are already over 2,400 applicants in Greece whose family reunification requests had been approved.
Irida Pandiri – who is responsible for seven shelters for unaccompanied minors at ARSIS NGO – reports that the mental health of children is at risk due to these delays, and serious psychiatric incidents and suicide attempts are on the rise. »The fact that there are these month-long delays for children who have already received the permit to travel and who could have been already reunited with their families abroad, also slows down the process of freeing up places in shelters, which could in turn be used to accommodate other children who are waiting for a place or are even in custody,« Pandiri points out.
There is also the fear that due to changes in funding and the newly introduced pre-conditions for the construction of shelters, there will be a further reduction of the already insufficient number of places in shelters. If this happens, the detention period of unaccompanied minors will be extended again to six months, as was the case during 2013 and 2014. This would have dramatic consequences for the mental health of the children.
Detention under degrading conditions
There are already several unaccompanied minors housed in unsuitable conditions in temporary accommodation centres with adults, and some are even homeless. The number of detained minors who are locked up for months under degrading conditions, unsuitable for their physical and mental health, has also increased. Indeed – as noted during a recent visit by ARSIS at the pre-removal detention centre for foreigners, Amygdaleza (PROKEKA), the medical age assessment of many unaccompanied minors was carried out by incompetent operators – namely the Hellenic Police – and outside of any legal framework, guarantees and procedures.
»Many of these kids are on the brink of collapse. The main reason they end up on the streets is that they feel trapped, without a way out, even if they stay in one of the shelters.«
The real number of children currently living in Greece is unknown, and they have almost no support when trying to prove their actual age. With the departure of the NGOs that were dealing with this particular issue in the RICs, these difficulties are only thought to increase. Furthermore, a functioning guardianship system – which would ensure that minors are accompanied, supported and protected through the procedures of identification, asylum, family reunification or relocation – still has not been set up, despite the fact that this is long overdue.
The only scope is survival
In the worst-case scenario – due to a lack of prompt and sufficient legal resettlement procedures to other EU countries – unaccompanied minors end up completely unprotected, as victims of violence and exploitation on the streets of Greece's cities, or even in the hands of smuggling networks.
»Many of these kids are on the brink of collapse. The main reason they end up on the streets is that they feel trapped, without a way out, even if they stay in one of the shelters. Since the EU-Turkey Deal in March 2016, this phenomenon has been increasing, due to the fact that the only way out is the one that the traffickers »sell« them. These children try to stay unseen and invisible in the hope of finding a clandestine way to leave. Since the beginning of the year the situation has become so serious that they do not end up in illegality just to make the money they require to continue their journey, but merely to survive,« says Tasos Smetopoulos of the Social Project »Steps«, a small outreach organisation in the centre of Athens. Some reach the point of risking their lives in order to firstly leave the Aegean Islands for the mainland and then later on to leave Greece via the port cities of Patras or Igoumenitsa, hiding inside trucks or other vehicles – as has been happening for decades.
Adulthood, and then what?
Many of these children know that as soon as they turn 18, they are in danger of being deported, of losing their chance for family reunification, or of ending up on the streets without any help.  »We have the verbal commitment that children who are still in the process of family reunification and turn 18 while still in Greece, will still be transferred to the countries that accepted them while they were still minors. The law leaves it at the discretion of the state of acceptance. We are afraid that eventually these young people will be forced to stay here,« says Mrs Pandiri. The places in shelters or other structures that exist for these young adults are scarce and insufficient to meet the overall need – not to mention the lack of relevant programmes and support services.
Nevertheless, there has been a recent increase in the number of unaccompanied minors, but also those who have reached the age of 18 ultimately deciding to remain in Greece. Due to recent developments, they fear that if they do manage to travel clandestinely to another European country, they might be returned back to Greece. At the end of 2016, the European Commission proposed the gradual resumption of Dublin III Returns to Greece from March 15th, 2017. That decision was based on their view that Greece had made sufficient progress in terms of the improvement of reception conditions, registration procedures for refugees, and the functioning of the asylum system.
No prospects for integration
The reality, however, is that for these children and young people there are virtually no prospects for integration, nor are there any relevant state initiatives worth mentioning. For example, the pilot programme for agricultural training for refugees aged 15-18 who live in shelters in Attica and Central Macedonia – which was announced recently by the Greek government – was severely criticised by many organisations.
Amman* from Afghanistan is 17 years old. »I lost all my rights in Greece. I was locked up for more than a year on an island in the Aegean, in a tent, and I struggled to correct my age until there was place for me in a shelter for minors and to record my asylum application with the correct personal data. In a few months I will turn 18 and I will be on the streets. Where will I go? What am I going to do? Who will help me?« he asks.
* Name changed
About Refugee Support Aegean
Refugee Support Aegean (RSA) is a Greek non-profit organization focusing on strategic litigations in support of refugees, monitoring human rights violations, as well as the provision of legal, social and humanitarian support in individual cases. Members of the organization are based on the islands and on the mainland and visit different parts of Greece in order to document the situation there. RSA is the implementing partner of the PRO ASYL foundation project RSPA-Refugee Support Program Aegean in Greece.
---