News
The Federal Constitutional Court stops a deportation to Greece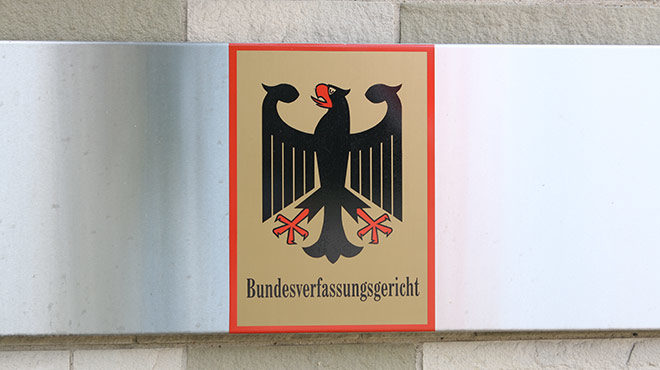 Germany and other European states are cranking up the deportation pressure on Greece. It is not just about the admission of people under the Dublin regulation; even individuals recognised as refugees are targeted. A decision published on May 24th, 2017 by the German Federal Constitutional Court has now put a damper on such endeavours.
The case had been brought by a Syrian refugee who had entered Germany in July 2015 and applied for asylum in December 2015. In a hearing at the Federal Office for Migration and Refugees (BAMF) he stated that he had already been granted asylum in Greece, but that he had no received any support by the state of Greece and had been living on the streets.
Asylum application rejected by BAMF
In a decision from November 8th, 2016, the Federal Office found the asylum application to be inadmissible. The claimant appealed in due time against the decision and applied for a suspension of the procedure. The Administrative Court (VG) in Minden rejected this appeal in a decision from December 14th, 2016.
The Administrative Court in Minden tersely stated that from the available sources it was not possible to infer that in Greece recognised refugees were systematically treated any worse than Greek nationals, and that, in any case, conditions for refugees had improved. The court also pointed to recommendations by the EU Commission, according to which Dublin transfers to Greece should be recommenced from March 2017.
The Federal Constitutional Court stops the deportation
The Federal Constitutional Court made an objection, stating that the Administrative Court should at least have considered the question "how access to shelter, food and sanitary facilities would be safeguarded for recognised refugees returned to Greece at least in the first period after their arrival there".
»I have been living in Athens for three years. […] I own nothing. I do not receive anything form the state. I simply wish for a life in dignity.«
In reality, refugees cannot access any support in Greece
The Federal Ministry for the Interior pointed out in a statement that universal social security benefits of €200 were to be introduced in Greece by January 1st, 2017, which would also be due to recognised refugees. However, according to the Ministry, applications could only be made from February 1st onwards, and to date there was no practical experience of how the scheme would work.
A form of social support for people with especially low incomes has indeed been in place since February 2017. In practice, however, these benefits are not accessible for refugees, as claimants have to produce, among other documents, a tenancy agreement, a tax return and details of a bank account.
The majority of refugees in Greece, and especially those without fixed abode, cannot meet such formal requirements. Food vouchers dispensed by individual local administrations can also only be accessed by meeting similarly high preconditions.
Social rights for refugees exist only on paper
This means that social rights for refugees do exist on paper, but in practice are not guaranteed. "The safeguarding of basic social rights currently is challenging both for asylum seekers and beneficiaries of international protection in Greece. The country does not have a comprehensive integration strategy, and there is a lack of specific measures aimed at the refugee population," said the UNHCR to our partner organisation in Greece, Refugee Support Aegean (RSA), in February 2017.
State help available only after decades
In their decision the judges in Karlsruhe also criticised the fact that the Administrative Court had not considered the fact that "according to findings by the claimant, social benefits in Greece require legal residency in the country of up to 20 years, which is why recognised refugees are all but excluded from accessing such benefits."
By way of example, RSA confirms that, according to current Greek law, families with more than two children will only receive state aid if they have lived legally in Greece for over 10 years. Hardly any recognised refugees will be able to meet such lengthy residency requirements.
On the situation of the people concerned
N.S., a Palestinian woman from Syria: "I have been living in Athens for three years. Only this year have I been granted asylum. It was very hard to make the application in the first place. Now I'm living with friends as I do not have my own flat, and I get my food from various organisations. I own nothing. I don't receive anything from the state. I'm currently waiting for my travel documents, and as soon as I have received them I want to leave. I simply wish for a life in dignity, nothing more. The Greek people are wonderful, but I cannot survive here."
---