News
Mussie Zerai honored with human rights award of the PRO ASYL Foundation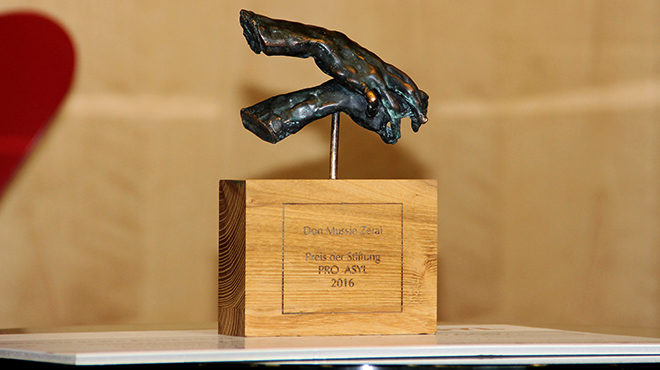 The catholic priest Father Mussie Zerai has been helping refugees in distress at sea for more than ten years. His mobile phone number is being etched into Libyan prison walls – it has been called already thousands of times, by desperate people in mortal danger. On Saturday Zerai has received PRO ASYL's human rights award for his commitment.
Having fled as an adolescent from Eritrea to Italy himself, in 2003 Mussie Zerai came into contact with compatriots on their way to Europe, stuck in a Libyan prison. He left them his mobile phone number, which since then spread among refugees.
Countless times Father Mussie Zerai has noted the coordinates of a boat and handed those to the Italian coast guard, to facilitate rescue. Thousands of people owe their lives to him.
»Mussie Zerai is a lifesaver, a pioneer for humanity and justice.«
Additionally he founded an aid organization in Italy called »Agenzia Habeshia«. When a ship cannot be saved, he remains active and addresses the public with his organization, to put pressure on those responsible. »I have realized that I cannot only extinguish the small flames, but have to put out the whole fire«, said Zerai in an interview as reasoning for becoming politically active above and beyond pure emergency aid.
»I would like to raise my voice for those that have none.«
The PRO ASYL-hand: Human rights award of the PRO ASYL Foundation
For his commitment Mussie Zerai received the human rights award of the PRO ASYL Foundation, the PRO ASYL-hand. Since 2006 the PRO ASYL Foundation awards this price endowed with 5.000 Euros. It honors individuals which promote respect for human rights and protection of refugees in outstanding ways.
»Mussie Zerai's outstanding commitment goes beyond humanitarian help in single cases. Every failed rescue attempt is cause for him to raise his voice publicly and to remind politicians in Europe of their responsibility for the protection of refugees.«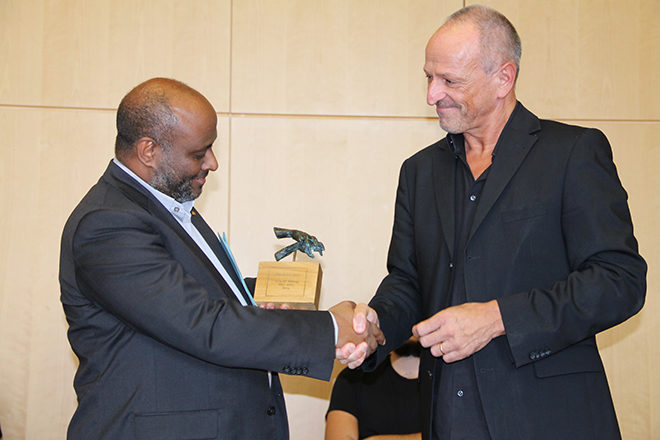 This year's award ceremony on Saturday, the 17th of September 2016 in Frankfurt am Main, was not only about the recipient's merits, but also about the current situation.
Criticism of European policy
While Mussie Zerai receives and answers calls for help from desperate refugees, discussions in Brussels take place to endlessly debate how people can be stopped from crossing the Mediterranean most effectively.
»Europe pays money to African despots to do the dirty work for the EU.«
Mussie Zerai addressed this in his acceptance speech and criticized that the European Union, along the model of the EU-Turkey deal, plans further partnerships with countries like Sudan and Eritrea. Europe pays money to African despots to do the dirty work.
Zerai warned urgently against the destruction of the European dream of being an oasis for human rights and social justice. That is also why his tireless efforts are so important, since he reminds the responsible politicians continuously of their obligations to human rights.
»The mass dying of refugees on Europe's external borders is no accident, but the direct result of European policy.«
Laudatory speaker Maximilian Popp, who acknowledged Mussie Zerai's commitment, addressed these policies too: »The mass dying of refugees on Europe's external borders is no accident, but the direct result of European policy. The German Basic Law and the European Charter of Fundamental Rights promise protection for all that flee from war or persecution. But the EU member states have been torpedoing this right for years. Who wants to apply for asylum in Europe must reach European territory first. Exactly this has become almost impossible because of Europe's walls-up policy.«
Mussie Zerai: Example for others
Popp called on all citizens who are interested in an open, solidary society, to follow Mussie Zerai's example and fight for more humanity. Some have already done so:
Decisively informed by his example, activists of the monitoring-project »Watch the Med« have in 2014 established another hotline for refugees in distress at sea, the »Alarm Phone«. Furthermore the catholic priest remains reachable for calls for help around the clock.
---