News
PRO ASYL's human rights award bestowed upon Father Mussie Zerai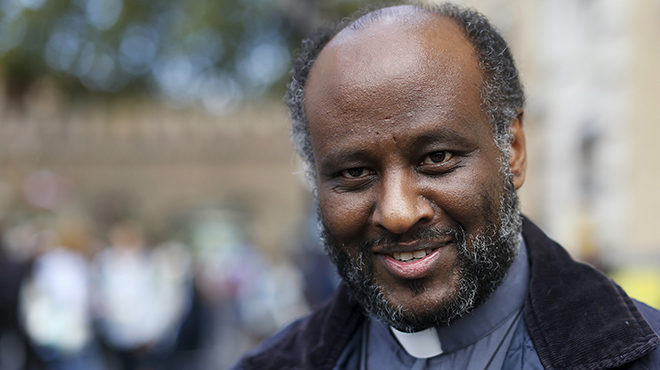 For many, his number is the last hope: the PRO ASYL Foundation awards its human rights award 2016 to the priest and refugee aid worker Mussie Zerai, who has been involved in the rescue of refugees in distress at sea for more than ten years with unparalleled effort.
Mussie Zerai knows what it means to arrive in a foreign society. He was 16 years old when he arrived in Italy in 1992 as a refugee. In the first years he delivers newspapers, sells fruit, and translates for a British priest. Later he studies theology and philosophy. After his ordination to priesthood the Catholic Church in Rome sends him to Switzerland as a minister.
Fate of refugees won't let go of him
When an Italian journalist asks him in 2003 if he could help him as an interpreter in a Libyan prison, Zerai for the first time comes into contact with Eritrean refugees on their way to Europe. The stories of his compatriots won't let go of him from then on and he sees it as his duty to help.
Calls in dire distress
Soon after his visit to prison he receives calls from people he met there and a little later also from refugees in distress at sea. Someone had etched Mussie Zerai's phone number into a prison wall with the note: »In emergencies, call this number!«
»Dear Baba, help us quickly«
So since 2004 the phone number of the dedicated priest is the last hope for many boat people – and in many cases instrumental in their rescue. »Dear Baba, help us quickly. We have no food, no water and the mobile phone battery is almost empty«, Mussie Zerai has received thousands of distress calls like this for more than ten years.
»When I hear that someone is in distress, then it is my human responsibility to help.«
Saved thousands of lives
When calls from distress at sea reach him, Zerai immediately contacts the Italian coast guard. He learned quickly what is important, if a rescue attempt is to be successful. The Italian coast guard estimates that Mussie Zerai has saved the lives of several thousand people to this day. The priest can be reached around the clock. When he sleeps, his mobile phone sits on his night stand, when he celebrates mass, someone "guards" it for him.
Hold the responsible accountable
In 2006 Zerai founded the aid organization "Agenzia Habeshia" in Italy, whose task it is, among other things, to support migrants and refugees in their dealings with authorities and in matters of integration. Soon Zerai and his organization also engage in lobbying and public relations work, he speaks on the radio and television, writes to politicians and aid organizations. It is important for him to hold the people responsible accountable. Asked for his motivation, Zerai simply answers: »When I hear that someone is in distress, then it is my human responsibility to help.«
Commitment that inspires others
Mussie Zerai's commitment inspires imitation: decisively informed by his example, activists of the monitoring-project "Watch the Med" have in 2014 established another hotline for refugees in distress at sea, the "Alarm Phone". The PRO ASYL Foundation honors Mussie Zerai and his tireless effort for the rescue and admission of refugees in distress at sea with its human rights award 2016.
---