News
Life-threatening obstinancy at the Algerian-Moroccan border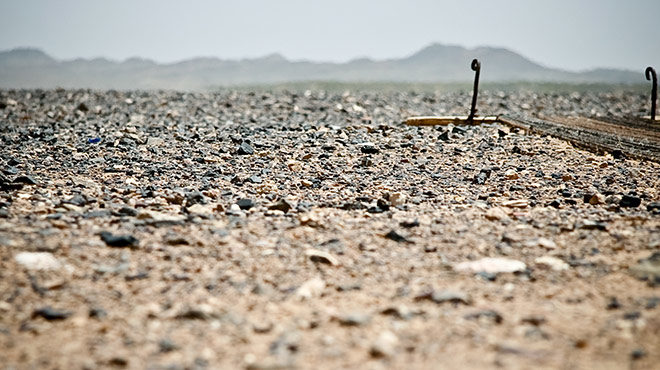 Must someone die for the families stuck at the Algerian-Moroccan border to receive water, food, and the protection they are entitled to? Our organisations call for an immediate solution to be found, before it is too late.
The Alge­ri­an For­eign Ministry's June 2nd offi­cial state­ments announ­cing its rea­di­ness to wel­co­me the "Syri­an natio­nals" on huma­ni­ta­ri­an grounds, have not been imple­men­ted, tur­ning this long las­ting situa­ti­on into an unbe­ara­ble sta­te of affairs.
Sin­ce the UN High Com­mis­sio­ner for Refu­gees' (UNHCR) high-level den­un­cia­ti­on of this "unten­ab­le and dan­ge­rous situa­ti­on", the issue had see­med to be moving out of its pre­vious impas­se, in spi­te of sub­stan­ti­al uncer­tain­ty about the even­tu­al fate of the­se Syri­ans in a coun­try without asyl­um laws.
Today, natio­na­list obsti­n­acy on the Alge­ri­an and Moroccan sides is hin­de­ring reso­lu­ti­on of the situa­ti­on. A joint dele­ga­ti­on from the UNHCR and the Alge­ri­an Red Cre­scent was kept wai­t­ing in vain for hours on June 5 at the Béni-Ounif bor­der cros­sing, for the "transfer"—as inap­pro­pria­te as it is—to take place, in this latent con­flict set­ting. Ear­lier that morning, the Moroccan for­ces had com­mit­ted an act of refou­le­ment by arres­ting a dozen men and women refu­gees in the cent­re of the Moroccan town of Figu­ig at 6AM, and brin­ging them back into the buf­fer zone at the border.
The situa­ti­on is thus at a dead-end while fami­lies, with whom we spo­ke on the pho­ne yes­ter­day after­noon, have even­tual­ly agreed to enter Alge­ria, even though their pri­ma­ry wish remains to reu­ni­te with tho­se of their fami­ly mem­bers legal­ly estab­lis­hed in Moroc­co or in the Euro­pean Union.
For five days now, and in the absence of any dia­lo­gue bet­ween Alge­ria and Moroc­co, women and child­ren have been wai­t­ing for the mili­ta­ry for­ce to pro­vi­de them with water and food. The refu­gees are out of reach be it for doc­tors, the UNHCR, NGOs or even water which local resi­dents have been try­ing to chan­nel to fami­lies yes­ter­day to no avail. No huma­ni­ta­ri­an aid is being pro­vi­ded by any of the aut­ho­ri­ties. The river clo­se by is dry, so they report.
We her­eby denoun­ce the inhu­ma­ne and degra­ding tre­at­ment which sta­te aut­ho­ri­ties wil­lin­g­ly inflict on the­se peop­le on ter­ri­to­ri­al grounds and in bla­tant bre­ach of their legal and moral obli­ga­ti­ons. We urge the Alge­ri­an and the Moroccan aut­ho­ri­ties to immedia­te­ly take the­se peop­le out of this no-go zone whe­re they are arbi­tra­ri­ly main­tai­ned, to tre­at them with digni­ty (water, food, health care). We urge them to give the­se refu­gees access to the UNHCR (Algiers, Gene­va, Rabat) with no fur­ther delay so they can be regis­tered and enga­ge the steps necessa­ry to their recep­ti­on, and the full respect of the rights inclu­ding fami­ly unity and fami­ly reuni­fi­ca­ti­on. Final­ly, we urge the United Nati­ons in Gene­va, in par­ti­cu­lar the UNHCR as well as the Spe­cial Rap­por­teur on the human rights of migrants to clo­se­ly moni­tor and pro-actively invol­ve at the hig­hest level given the serious­ness of the situation.
Our orga­ni­sa­ti­ons are outra­ged that this ter­ri­to­ri­al dis­pu­te, mate­ria­li­sed by the gro­wing mili­ta­ri­sa­ti­on of the area, is lea­ding to the com­ple­te obli­vi­on of the most basic man as well as human princi­ples. That's enough of a wide­ly repor­ted and denoun­ced situa­ti­on which has las­ted too long.
Signatory organisations
Algerian League for the Defence of Human Rights (LADDH)
EuroMed Rights
International Federation for Human Rights
Moroccan Association for Human Rights (AMDH)
Moroccan Organisation for Human Rights (OMDH)
National Autonomous Trade-Union for Public Administration (SNAPAP)
ProAsyl
WatchTheMed/ Alarm Phone
---