News
Agathonisi shipwreck: Reunification of families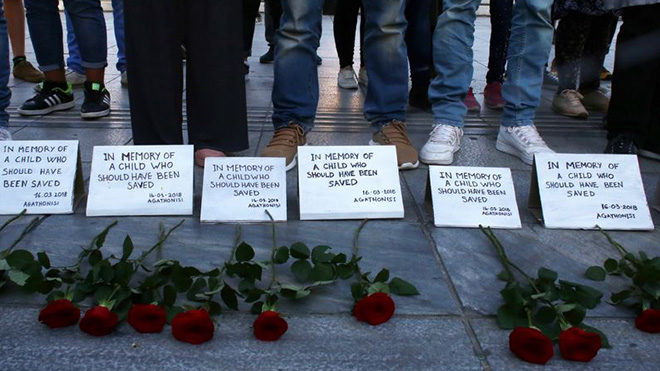 PRO ASYL and RSA welcome the German authorities' recent decisions accepting the family reunification request of one of the three survivors and three family members of refugees who lost their lives last March after their boat capsized near the island of Agathonis, Greece.
The two orga­niz­a­ti­ons belie­ve that the decisi­ons are a step towards ensu­ring some reco­very for the deeply trau­ma­ti­zed sur­vi­vors and fami­lies of tho­se who peris­hed. Once reuni­fied with their fami­lies, the four refu­gees will be able to enjoy a sup­por­ti­ve envi­ron­ment that will allow them to res­to­re to an extent their per­so­nal, fami­li­al and social lives and cope some­what with their trau­ma.
Six­teen refu­gees inclu­ding nine child­ren lost their lives and at least three are mis­sing and strong evi­dence points out to the fail­u­re of the Greek coast­guard to con­duct a prompt search and res­cue ope­ra­ti­on. Fahi­ma is an Afghan refu­gee and one of the three sur­vi­vors. She wit­nessed her four child­ren and other rela­ti­ves perish in front of her eyes and has been deeply trau­ma­ti­zed by the inci­dent. The decisi­on will allow her to reuni­fy with wider fami­ly in Ger­ma­ny and find some sup­port to cope with her pro­found loss.
The Ger­man aut­ho­ri­ties have also accep­ted the reuni­fi­ca­ti­on requests by Zarg­ho­na – Fahima's sis­ter and two of her child­ren. Zarg­ho­na has lost her hus­band, elder daugh­ter and two of her sons in the tra­ge­dy. She and two of her sur­vi­ving child­ren will reuni­fy with one of her sons who live in Ger­ma­ny. Sin­ce the time of the tra­ge­dy, Fahi­ma and Zarghona's fami­lies in Ger­ma­ny pro­vi­ded cru­cial and con­ti­nuous sup­port to their relatives.
PRO ASYL and RSA con­ti­nue to urge the Greek aut­ho­ri­ties to ensu­re a prompt and impar­ti­al inves­ti­ga­ti­on into the cir­cum­s­tan­ces of the tragedy.
---