News
Situation on Samos has reached the edge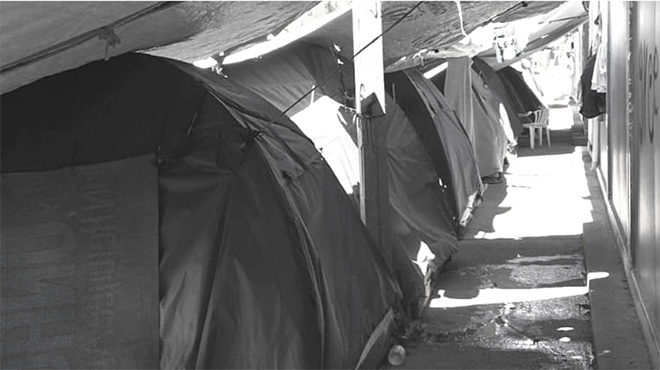 The situation on Samos island has reached the edge as the grim conditions under which hundreds of refugees live in Vathi hotspot are a humanitarian disaster. Meanwhile, reactions by local society including xenophobic voices are strengthened. PRO ASYL / RSA have repeatedly highlighted concerns over the toxic impact of the EU-Turkey deal.
As of 14 Febru­ary, Vat­hi hot­spot was serious­ly over­c­row­ded and hos­ted 3,743 per­sons while its capa­ci­ty is for 650 and despi­te govern­ment pro­mi­ses for impro­ve­ments, the situa­ti­on appears to get worse. Of par­ti­cu­lar con­cern is the situa­ti­on of unac­com­pa­nied child­ren who resi­de in the hot­spot. Accor­ding to the UN Refu­gee Agen­cy, in Decem­ber 2018 unac­com­pa­nied child­ren in Vat­hi hot­spot were forced to take turns to sleep due to lack of mat­tres­ses. In the infor­mal camp next to the hot­spot, tens of refu­gees inclu­ding fami­lies with small child­ren are forced to live in tents and are expo­sed to the adver­se wea­ther conditions.
Accor­ding to reports, the­re is no doc­tor in the hot­spot from the Greek Cent­re for Dise­a­se Con­trol and Pre­ven­ti­on (H.C.D.C.P) sin­ce the last and only one resi­gned ear­lier this Febru­ary. As a result, it has fal­len upon the under­staf­fed Samos hos­pi­tal to pro­vi­de essen­ti­al health­ca­re to the thou­sands of refu­gees living in the hot­spot and the island. The lack of medi­cal staff in the hot­spot impacts not only the health­ca­re of refu­gees but also the vul­nerabi­li­ty assess­ment pro­ce­du­re. This leads to delays of trans­fers of tho­se vul­nerable to the mainland.
It is worth not­ing that Greece has been reques­ted by the EU to take steps so that Samos struc­tures can host 1,500 by Sep­tem­ber 2019. In the begin­ning of Decem­ber 2018, Vivi Michou, the Gene­ral Direc­tor of Migra­ti­on Poli­cy and Inter­nal Affairs in the Euro­pean Com­mis­si­on, sta­ted that the situa­ti­on in Samos hot­spot is worse than that of Moria on Lesvos.
In addi­ti­on, Dimit­ris Vits­as, Minis­ter for Migra­ti­on Poli­cy, admit­ted ear­ly this month that the situa­ti­on on Samos has excee­ded the limits and sta­ted that a second asyl­um unit will be send to the island to acce­le­ra­te the asyl­um pro­ce­du­re and 250 unac­com­pa­nied child­ren would be trans­fer­red to the mainland.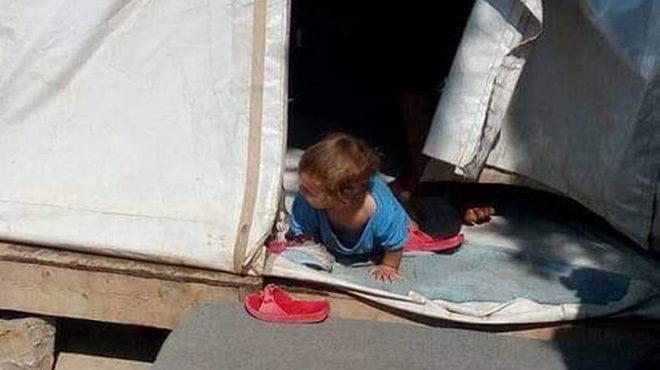 Accor­ding to UNHCR, in recent weeks trans­fers from the islands of the Aege­an to the main­land have drop­ped. For exam­p­le, bet­ween 4 and 10 Febru­ary only 265 trans­fers have taken place in com­pa­ri­son to the peri­od of 7 to 13 Janu­ary when a total of 735 per­sons had been trans­fer­red to the main­land. At the same time, during 4 and 10 Febru­ary, Samos had 105 refu­gee arri­vals and Les­vos, 213. It is obvious that trans­fers are not enough as arri­vals equal the depar­tures to the mainland.
Refugees protesting over living conditions
At the end of Janu­ary, hundreds of refu­gees pro­tes­ted on Samos once more for the dire living con­di­ti­ons and asked for their trans­fer to the main­land and mul­ti­ple artic­les in natio­nal and inter­na­tio­nal media descri­bed the despe­ra­te situation.
»In the food queu­es, the­re is a lot of ten­si­on. I ask money from my rela­ti­ves so that I can buy some food«
Alan* a refu­gee from Syria who spend the first four months after his arri­val in 2018 on the island in a tent; he now lives in a con­tai­ner. He told us: "When I arri­ved on Samos and the aut­ho­ri­ties trans­fer­red me to the hot­spot, I had to buy a tent and set it up whe­re the­re was an emp­ty space. The big­gest pro­blem for refu­gees is that a lar­ge num­ber lives in tents and the food we are given is of real­ly bad qua­li­ty. In the food queu­es, the­re is a lot of ten­si­on. I ask money from my rela­ti­ves so that I can buy some food". As far as legal sup­port for his asyl­um appli­ca­ti­on, Alan told us that legal aid is limi­t­ed and as a result he was forced to seek the ser­vices of a pri­va­te lawy­er. Mean­while, the date for the exami­na­ti­on of his asyl­um cla­im has been sche­du­led for 2020 and he does not know whe­ther he can sur­vi­ve under the con­di­ti­ons he is forced to live. At the same time, he feels unde­si­red on the island.
Fuelled xenophobia
On 7 Febru­ary, a gene­ral strike took place that had as a focus the refu­gee issue on the island. Tho­se par­ti­ci­pa­ting ran­ged from groups who in the past had a neu­tral posi­ti­on on the refu­gee issue such as workers' trade uni­ons. On the other hand, other groups par­ti­ci­pa­ting in the strike had in the past expres­sed xeno­pho­bic rhe­to­ric and had express­ly sta­ted that their oppo­si­ti­on to the pre­sence of refu­gees and migrants on the island. The per­sis­tent non-ful­film­ent of poli­ti­cal pro­mi­ses by the Minis­try of Migra­ti­on Poli­cy regar­ding the impro­ve­ment of recep­ti­on con­di­ti­ons and trans­fers of vul­nerable refu­gees to the main­land has led to the crea­ti­on of a poli­ti­cal front against the pre­sence of the hot­spot on the island.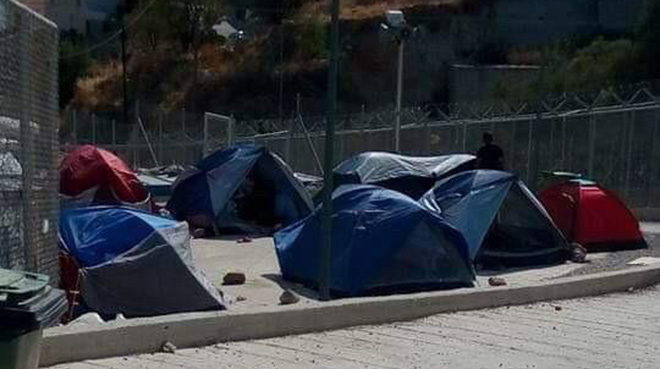 Tho­se par­ti­ci­pa­ting in the cur­rent strike asked among­st others for clo­sure of Vat­hi hot­spot, for the govern­ment to stop the plans for the estab­lish­ment of a new hot­spot, for the trans­fer of refu­gees to the main­land and the end of the EU-Tur­key deal. But repor­ted­ly the main mes­sa­ge from this strike was to remo­ve refu­gees from the island in order to avo­id more con­se­quen­ces upon the local socie­ty and economy.
An island with no structures
The situa­ti­on on the island is explo­si­ve and refu­gees expe­ri­ence dai­ly hosti­li­ty by parts of the local popu­la­ti­on. Gia­se­mo Keha­gia is an acti­vist from the Move­ment for Human Rights – Soli­da­ri­ty on Samos and spo­ke to Refu­gee Sup­port Aege­an about the situa­ti­on in Vat­hi whe­re the hot­spot is situa­ted. "The town does not have basic public faci­li­ties such as public toi­lets and show­ers; The­re are no places for sports recei­ving the refu­gees or any other enter­tain­ment places; Shop owners many times demand they lea­ve their shops, main­ly cafes and restaurants…Africans in par­ti­cu­lar expe­ri­ence more racism….".
Even teachers did not escape xenophobic attacks
Ano­ther serious cau­se of con­cern is rela­ted to the ten­si­ons regar­ding the edu­ca­ti­on of refu­gee child­ren. At the end of Janu­ary, tea­chers expres­sing their sup­port to refu­gee child­ren atten­ding Samos schools were atta­cked by par­ents during a mee­ting of Par­ents' Asso­cia­ti­ons on the island. This is ano­ther inci­dent that fol­lows pre­vious xeno­pho­bic attacks to refu­gees, soli­da­ri­ty citi­zens and NGO staff.
*Name has been changed to protect anonymity.
---