News
Planned reform of the Dublin system: Tightening measures leave refugees unprotected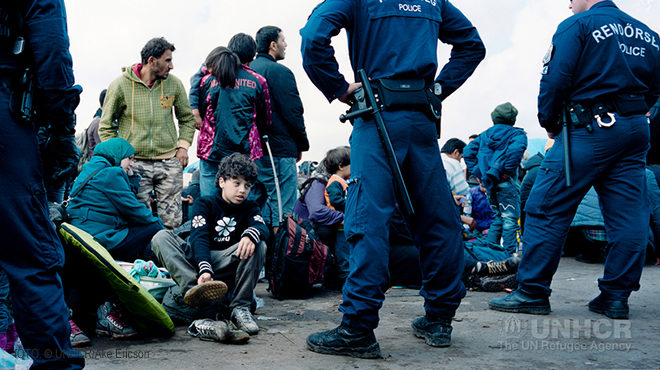 The reform of the Dublin system will be debated in the upcoming months. The EU Commission plans a massive tightening of the current Dublin system. It wants to remove the provisions which at the moment allow for a humanitarian correction of the Dublin system.
To this end, the EU Commission has devised a proposal for new Dublin-IV regulations on May 4th 2016. Deportation to other EU member states – in which refugees are being treated inhumanely – could be stopped up to now, for instance by enforcing the sovereignty clause. This is no longer to be possible. PRO ASYL warns against implementing the proposals of the EU Commission.
Deadlines are to be abolished, deportations still possible even after several years
What to date has been the last resort to stop deportations according to the Dublin regulation is supposed to become impossible: In the future no change of responsibility is to take place after the deadlines in the course of a Dublin procedure have elapsed (p. 58 and 63 of the draft). To date, a member state that wanted to enforce a deportation according to the Dublin regulations had to observe certain deadlines. For instance if the time limit for transfers of six months wasn't being adhered to, responsibility moves to the member state in which the refugee resides.
If these regulations are to be abolished, refugees could be deported even after several years – humanitarian considerations no longer possible. The affected persons would merely be tolerated and would have to live in permanent fear of yet being deported back to Bulgaria, Hungary or Italy. In the end they would be so-called "refugees in orbit" – refugees in need of protection without any actual access to refugee protection: the state they are in denies their right of asylum. The state which according to Dublin regulations is responsible for them offers no humane chance of survival.
Sovereignty clause is to be limited: now only applicable in circumstances involving family ties
In addition, the sovereignty clause is to be limited to application only if family ties exist (p. 49 of the draft). So far the implementation of the sovereignty clause was up to the discretion of the respective state. In Germany it was applied in particular to groups of especially vulnerable people. This is to no longer be possible.
Third-country regulations to cancel out right to family reunification
It is also planned to implement admissibility procedures before every examination of responsibility, in which it is to be determined if a protection seeker can't be deported to a "safe third country" or "first country of asylum" (p. 39 and following of the draft). The right of family reunification, as one example, is to be canceled out by this third-country regulation. Asylum seekers that arrive in Greece are no longer to be allowed to travel to their relatives.
---