News
Illegal pushbacks of asylum seekers at the EU's eastern external borders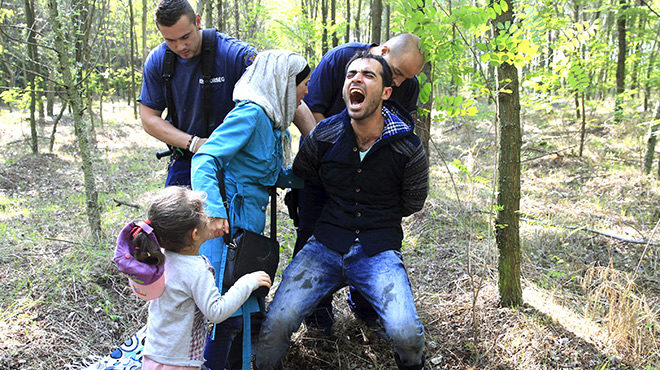 Various Central European organisations forming the European Council on Refugees and Exiles (ECRE) recently published a report on the appalling reality at the EU's eastern external borders, where time and again illegal pushbacks of asylum seekers are taking place.
The report "Pushed back at the door" describes the rising number of illegal pushbacks at Europe's external borders in Bulgaria, the Czech Republic (at Prague Airport), Hungary and Poland, also giving an overview of worrying developments in Slovenian policies and legislation.
Over the course of 2016, the Bulgarian Helsinki Committee (BHC) received increasing numbers of reports of violent pushbacks at the Bulgarian-Turkish border. These reports not only describe events at the border itself, but also at the bordering regions within Bulgaria.
Apart from the pushbacks, the reports also talk of thefts (of money, valuables and even food) carried out by the Bulgarian police as well as police tactics of intimidation, such as firing warning shots and the deployment of dogs.
The Czech Republic's only EU-external border is located in the transit area of Prague Airport. While the law provides for a kind of airport procedure, in reality asylum seekers hardly have access – neither to the asylum procedure itself, nor to the accommodation provided at the airport for this purpose. In 2015 and 2016, a maximum of two people per month were able to gain access to this procedure, while between 30 and 40 decisions refusing entry were issued each month, among them for people from countries such as Sri Lanka, Iraq and the Democratic Republic of Congo.
The Organization for Aid to Refugees (OPU) has received many indications that some of these people had wanted to apply for asylum, and that in some cases even persons with valid entry visas were rejected and sent back.
Hungary has erected a fence along its borders to Serbia and Croatia. There are two transit zones (at Röszke and Tompa), where between 20 and 30 asylum seekers are allowed to enter the country every day. Through a law passed in the summer of 2016, pushbacks were all but legalised in Hungary: Under this law, any person who is located at the border or up to eight kilometres inside the country can be taken back across the border. In this way, 13,869 people were refused entry between July 5th and October 30th, 2016.
Additionally, there are numerous reports of mistreatments of migrants and deployments of dogs. According to its own reports, the organisation Médecins sans Frontières (MSF) Serbia treats injuries to refugees and migrants caused by the Hungarian border forces on a daily basis.
According to Polish law, asylum applications made to border forces have to be registered and passed on to the head of the foreigners' registration office within 48 hours. Over the past months there have been an increasing number of reports according to which many people were refused entry as well as the opportunity to make an asylum request. These reports concern the border to Belarus (border station Brest-Terespol).
It is mainly asylum seekers from Chechnya who want to apply for asylum in the EU via Belarus. The border forces have been denying access to the proceedings at the border to NGOs and the UNHCR. 72,372 people were refused entry (among them 61,267 people from Russia) between January and September 2016, while during the entire previous year (2015) the number of refusals was still only 17,376.
Slovenia does not have an EU-external border. While there is no evidence of any systematic pushbacks, there are worrying policy tendencies: An amendment bill which would extend parliament's powers – »if it becomes necessary due to a threat to public order and security caused by migration« – to shut the borders, stop considering asylum applications and to push back asylum seekers at the borders is to be voted on as early as January 2017.
---