News
Greece: Thousands of stranded refugees end up in misery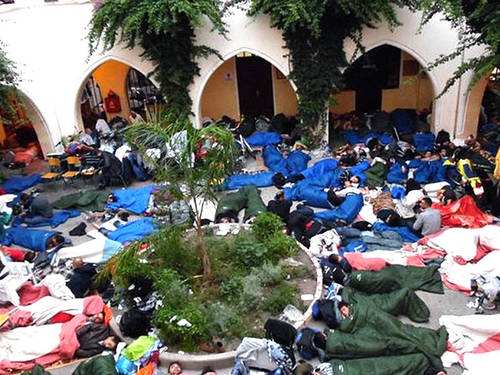 Thousands of boat people are currently arriving at the Greek Aegean islands. Most of them end up homeless and destitute because there is no governmental support at all. Greece and the European Union have the responsibility to receive and accommodate the stranded refugees in a humane way.
While the European Union discusses, whether 16.000 refugees from Greece could be relocated to other EU states within the next two years, 11.873 new protection seekers arrived in Greece this April alone, mainly on the Aegean islands. The majority of the refugees comes from Syria and Afghanistan.
Already in March 6.583 border crossings to Greece were registered. This means that in the last two months alone more refugees arrived in Greece than the EU is considering to relocate. The planned relocation of 16.000 refugees therefore isn't more than a drop in the ocean. 
The situation in crisis stricken Greece, especially on the Aegean islands is dramatic. Our colleagues from the Refugee Support Program in the Aegean (RSPA), which has been initiated by PRO ASYL, are active there and have been offering legal and social support to refugees since the beginning of 2015.
Humanitarian Crisis on the Greek Islands
RSPA lawyer Natassa Strachini reports that 50 to 500 refugees arrive every day in Lesvos. Kos registers similar numbers. Since new arrivals cannot be sheltered and cared for sufficiently, Lesbos and the other islands face a humanitarian crisis. "Especially on Kos the situation is completely out of control. Even the most basic necessities are missing" recounts Strachini. Given the current number of arrivals she and the other project members mainly provide emergency support, first legal counseling as well as legal and social support in cases of particularly vulnerable persons, especially unaccompanied minors and families with small children."
Homelessness and destitution
Homelessness is one of the most urgent issues. On Kos there are no accommodations apart from a provisionally transformed empty hotel without sanitary facilities. On Lesbos it has become virtually impossible to find suitable accommodation for the boat people. Most of them arrive near the port of Molyvos. Then they first have to cover a distance of 70 kilometers before they arrive in the islands capital Mytilini. Since bus, taxi and car drivers can be punished for "supporting trafficking" when they take along refugees, many protection seekers are forced to make the long journey by foot.
The reception capacities in Mytilini are long overstretched. The detention center of Moria, which was designed for 250 persons, already hosts over 1000 people. Refugees are forced to camp out in the open; many of them sleep at the harbor.  The homeless have no access to sanitary facilities, food or water. There is solidarity amongst the citizens who often provide some help, but state-organized support remains absent.
The situation on other islands such as Samos, Chios, Leros and Rhodos is similar. The island of Kos has been in the focus of the British press lately since some tourists felt so disturbed by the presence of numerous homeless refugees that they described Kos as a "disgusting hellhole". Which hell the refugees had to flee from and which human rights violations they might still have to suffer from was not mentioned in this media coverage.
Together with our partners from RSPA as well as other solidarity groups from the islands, PRO ASYL demands from the Greek government to immediately take measures to counter the humanitarian crisis. The respective authorities have to allow for private, volunteer help. It is unacceptable, that solidarity and helpfulness are under threat of prosecution and punishment. Alternative reception facilities have to be found urgently and there is a need for transportation for refugees on the islands and from the islands. There still is no functioning reception system in Greece, which has been criticized by PRO ASYL for years. The new government has announced improvements, now action needs to follow.
However it isn't only Greece who is responsible for refugees: Europe cannot leave countries at its external borders alone. An immediate generous humanitarian relocation of particularly vulnerable persons from Greece is needed, especially of unaccompanied minors. Further a well-equipped crisis fund for the establishment of humane reception capacities and for securing medical treatment for protection seekers is needed.
---