News
EU-Turkey-Meeting: Individuals' right of asylum up for discussion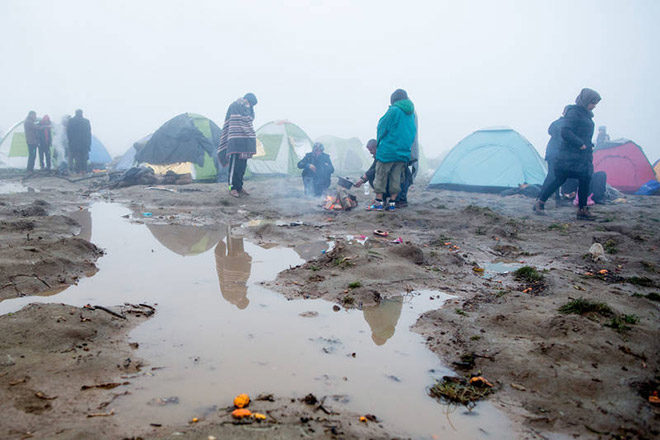 The meeting between EU and Turkey sends a devastating signal: Human rights and the rights of refugees are being sacrificed to brutal interest-driven politics. The European heads of state or government are ready to shut their eyes regarding all matters of human rights in Turkey, as long as Turkey's government does its part in stopping refugees.
Turkey confirmed its commitment "to accept the rapid return of all migrants not in need of international protection crossing from Turkey into Greece". Additionally all "irregular migrants" picked up in Turkish waters are to be taken back. The NATO mission in the Aegean is supposed to keep as many boats as possible from even reaching Greek waters. Further measures are to be developed, according to the final document – including "to return all new irregular migrants crossing from Turkey to the Greek islands". Individuals' right of asylum and need for protection do not matter in this scenario. The fact that Turkey does not have a functioning protection system is being ignored. The UNHCR has expressed concerns in regards to international law in a first statement and reminded the European Union's heads of government that a blanket return of all boat people is not in line with their international obligations.
Vulnerable individuals played off against each other
Rights to protection are only being attributed to Syrian refugees which the proposed deal shows: For every protection applicant from Syria taken back by Turkey, one Syrian refugee is supposed to be admitted to one of the EU member states by means of resettlement. What about refugees from Afghanistan, Iran, Somalia, Eritrea and so on? They are left completely helpless before an inadequate protection system and ongoing violations of human rights in Turkey. In this perfidious manner vulnerable individuals are being played off against each other. It is furthermore rather questionable if the states of the EU will indeed admit Syrian protection applicants. To date the readiness for admission in Europe is almost nil. The final document of the meeting explicitly maintains: There will be no establishment of "any new commitments on Member States as far as relocation and resettlement is concerned".
Closing of the Balkan route
In Greece neither asylum procedures nor care for tens of thousands is possible. The closing of the Balkan route will lead to a dramatic intensification of the humanitarian crisis. Already more than 14,000 people, including 4,000 children  are stuck at the border between Greece and Macedonia in Idomeni. They dwell in tents, many are sick. In their statement the European heads of government asserted "to end the wave-through approach": "Irregular flows of migrants along the Western Balkans route have now come to an end". That "end" means tens of thousands are stuck – without rights and with no protection in sight.
NATO assists in human rights violations
Ships on NATO mission are meant to also operate in Turkish waters from now on. By sharing reconnaissance and surveillance information, NATO in cooperation with the European border agency Frontex intends to support the Greek and Turkish coast guards in their fight against traffickers. The actual aim: to stop refugees from reaching the Greek islands by all means. Rights violations are being accepted even though the European Court of Human Rights (ECtHR) has decided in the case of Hírsi Jamaa and Others v. Italy on the 23rd of February 2012 that European member states have to uphold the European Convention on Human Rights (ECHR) even outside of European waters. German and other soldiers are subject to the ECHR. Stopping refugee boats with NATO support is aiding the violation of human rights.
"Areas which will be more safe" in Syria
The concessions towards the Turkish government do not stop at visa liberalization for Turkish citizens, additional funding and the opening of new chapters in the accession negotiations. Disregarding any considerations of human rights, endeavors "to improve humanitarian conditions inside Syria" are to be undertaken to "allow for the local population and refugees to live in areas which will be more safe". This long kept wish of Erdogan, to keep protection applicants stuck in the war zone, does not only make a mockery of the notion of protection of refugees but also means kowtowing to the disastrous foreign policy of the authoritarian president. The meeting of the European heads of state or government confirms all misgivings: All signs point to repulsion, the erosion of the right of asylum is in full swing. On the 17th and 18th of March the European tragedy will enter its next phase.
---